Snacks, not appetizers, imply treats that can be made ahead, stored and pulled out when you have an urge to munch, like while watching your favorite TV program. A snack can be eaten at any time. Make or buy gourmet snacks to have on hand for yourself or whenever unexpected company drops by.
Pig Candy Recipe
While the name might be a little offputting, what's not to love about candied bacon drenched in brown sugar and pecans? These can be stored, tightly covered, in the refrigerator.
Ingredients
Yield: 12 to 14 strips
1 pound thick-cut bacon
1/2 cup packed dark-brown sugar
1 teaspoon spicy dry mustard
2 teaspoons chili powder or 1/4 teaspoon cayenne pepper or to taste (optional)
1 cup chopped pecans
Instructions
Heat oven to 350 degrees. Line a jellyroll pan with foil to catch drips. Place an ovenproof rack on the jellyroll pan and set aside.
In a zip-top plastic bag, place dark-brown sugar, dry mustard, and optional chili powder or cayenne pepper. Seal and shake well until mixed.
In batches, toss in a few strips of bacon at a time and coat them with mixture. Lay the coated bacon strips on the rack. Repeat until all strips are coated.
Add chopped pecans to remaining coating mixture and shake to cover the nuts. Sprinkle coated pecans evenly on strips of bacon on the rack.
Bake for about 30 to 45 minutes or until cooked through. Watch carefully because dark brown sugar has more molasses than light brown sugar and can burn. Cool on the rack until stiff. Transfer to paper towels to drain.
Store covered and refrigerated in a single layer in a rectangular container with waxed paper between the layers for 3 to 4 days, or freeze. The bacon will soften with refrigeration so you might want to re-crisp it in a 350-degree oven for 5 minutes when serving.
Serve with plenty of napkins.
Crunchy Pasta Recipe
Who would have thought frying small pasta shapes and coating them with exotic spices, herbs and cheese would make a great snack? But they do. Make them ahead, topped to your liking, store tightly covered, and pull them out when the urge strikes.
Ingredients
Yield: About 6 cups crunchy pasta
1 pound dry small pasta like bowties, square noodles, or wonton wrappers cut in half
1 tablespoon lemon zest
1 cup grated Parmigiano-Reggiano cheese
1 tablespoon finely chopped fresh chives or parsley (optional)
1/4 cup fresh thyme leaves or chopped basil (optional)
2 tablespoons sweet or spicy Hungarian paprika
6 cups neutral oil like canola or vegetable
Coarse salt and freshly ground pepper
Instructions
In a small bowl, combine lemon zest, Parmesan, optional chives or parsley, optional thyme or basil, and paprika. Set aside.
Bring a 4-quart saucepan of lightly salted water to a boil. Add the pasta and cook halfway, about 7 minutes. Drain pasta thoroughly and blot dry.
In a fryer or deep heavy-bottomed saucepan set over medium-high heat, heat oil to 375 degrees. Fry pasta in four batches until light brown, about 1 1/2 minutes. Remove from oil using a wire skimmer or slotted spoon. Drain on a paper towels. Repeat with remaining batches.
While pasta is still warm, sprinkle each batch with 1/4 of the cheese mixture. Season with salt and pepper.
Store covered in an airtight container up to three days.
Soft Pretzel Bites Recipe
If super crunchy isn't your idea of a good snack, these soft pretzel bites are just the ticket. Dip them in the gourmet mustard of your choice. This pretzel recipe is a bit of work because it's made the authentic way by boiling and baking, but they taste oh-so-much better than the bagged variety.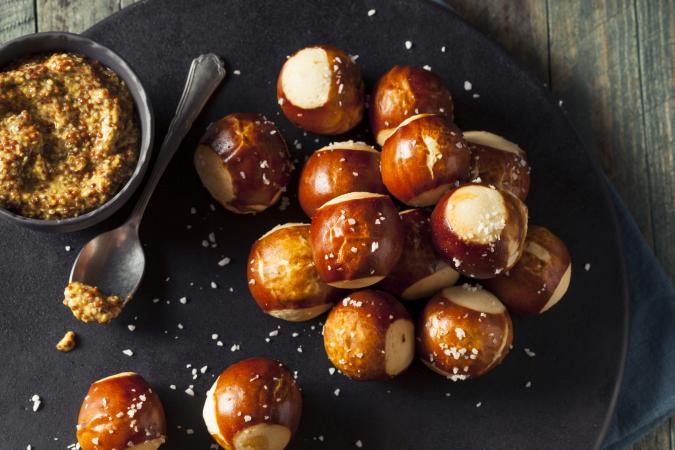 Dough Ingredients
Yield: About 64 pieces
1 1/2 cups warm water (110 to 115 degrees F)
1 tablespoon sugar
2 teaspoons salt
1 (.25-ounce) package or 2 1/4 teaspoons active dry yeast
4 1/2 cups all-purpose flour
4 tablespoons unsalted butter, melted
Nonstick baking spray
Ingredients for Boiling and Baking
2 1/2 quarts water
2/3 cup baking soda
1 large room-temperature egg yolk beaten with 1 tablespoon cold water
Coarse pretzel salt, for sprinkling
Dough Instructions
In the bowl of a stand mixer or a large bowl, stir together warm water, sugar, and salt. Sprinkle yeast on top of liquid and let sit for 5 minutes, or until the mixture is bubbly.
Using the dough hook and on low speed, start adding flour and melted butter, alternately, until the dough comes together into a shaggy mass. Increase the mixer speed to medium and knead until dough is smooth and pulls away from the bowl, about 4 to 5 minutes.
Remove the dough from the mixer and transfer to a bowl coated with nonstick cooking spray. Cover with plastic wrap and let rise until doubled, about 1 hour.
Instructions for Baking and Boiling
Heat oven to 450 degrees F. Line two large baking sheet pans with parchment paper and lightly coat with nonstick cooking spray. Set aside.
In a large pot, bring 10 cups water and baking soda to a rolling boil over high heat.
While the water is heating, turn the risen dough out onto a lightly floured work surface and divide into 8 pieces.
Roll each of the 8 pieces of dough into a smooth, 12-inch rope. Cut each rope into 8 equal pieces and lay them on the parchment-lined and sprayed sheet pans.
When the water has a reached a full rolling boil, slip the pretzel pieces one by one into the pot and cook for 30 seconds, flipping halfway through. Using a slotted spoon, remove from the water.
Return the boiled pretzel bites to the parchment-lined and sprayed sheet pans in a single layer. Brush the top of each with the egg yolk-water mixture, and sprinkle with the salt.
Bake until pieces are dark golden brown, about 12 to 14 minutes. After cooling on a wire rack for 5 minutes, serve with the gourmet mustard of your choosing.
Cool completely before storing in an airtight container for up to 3 days, refrigerated. Reheat in a microwave before serving.
Tropical Trail Mix Recipe
What's so gourmet about trail mix? Well, when it contains dried tropical fruits and nuts like macadamias and cashews, the ante is upped. All the dried fruits, except the cherries and coconuts, are unsweetened. If you like a sweeter flavor, by all means use sweetened dried fruit.
Ingredients
Yield: 5 to 6 cups
1 cup unsweetened dried pineapple, diced
1 cup unsweetened dried mango, diced
1 cup unsweetened dried kiwi, diced
1 cup sweetened dried cherries
1 cup roasted salted nuts (cashews, macadamias, almonds, hazelnuts or a mixture)
1 cup unsweetened flaked coconut (optional)
1 cup sesame sticks (optional)
Instructions
Place pineapple, mango, kiwi and cherries in a large bowl. Add cashews or nuts of choice, optional coconut and sesame sticks, and toss to combine.
Store in an airtight container at room temperature. Dried fruit has a tendency to stick together so just shake the container before serving.
Gourmet Snacks to Buy
If you don't have the time or inclination to make your own gourmet snacks, there are lots of options out there. Some popular items include:
Don't Count Out the Beverages
These snacks all pair well with wines, craft beers and retro cocktails. So, if you've invited friends in for Game of Thrones and snacks, don't forget the beverages. These days, pretty much anything goes but, if you're a stickler, take advantage of recommendations from a food and wine pairing chart and a rundown on popular beers.