Blue Cheese Mousse Recipe
A Blue cheese mousse recipe is a tastefully simple gourmet food. Blue cheese has a sharp and robust flavor, making it one of the best cheeses of the gourmet world. Serve blue cheese mousse as a canapé and watch your guests keep coming back for more.
About Blue Cheese
Blue cheese, also known as bleu cheese, gains its distinctive flavor due to its appearance being distinguished by a pattern of blue-green veins running through the cheese. This blue mold pattern is what distinguishes blue cheese from other types of gourmet cheese. There are many blue cheese producers from all over the world. Blue cheese is made with cow's milk, goat or sheep's milk. Some brands continue to mold the cheese in caves, and some inject the cheese with spores of moldy bread. There is a lot of diversity when it comes to blue cheese production.
Varieties of Blue Cheese
There are a lot of varieties of blue cheese, with cheese makers using their own production methods for a variety of different flavors and textures. Below are some of the very best blue cheese makers in the world, ranging from English blue cheese to Denmark blue cheese:
Roquefort
Known as one of the best blue cheeses in the world, Roquefort is a pride of France. Made from cow's milk, Roquefort has a creamy texture with a robust spicy flavor and complements many French appetizers.
Gorgonzola
This famous blue cheese made from cow's milk is the pride of Italy. It has a delicate creamy texture with a mild, sweet flavor.
Cabrales
Made from a mixture of cow, sheep and goat milk, Cabrales is one of the most distinguished cheeses from Spain. Cabrales has a very robust spicy taste.
Danish Blue
Danish Blue, known as Danablu, is Denmark's most well-known blue cheese. Danablu is a semi-soft cheese with a mild and salty taste.
Stilton
Stilton cheese is an English blue cheese still handcrafted in Britain, made from cow's milk producing a soft, light texture.
Quick Blue Cheese Mousse Recipe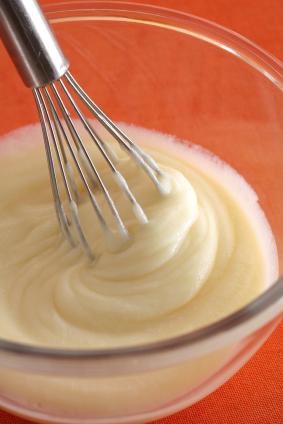 Start to finish: 45 minutes
Servings: 24
Ingredients
12 ounces blue cheese, softened
6 ounces cream cheese, softened
3 ounces heavy cream, whipped (optional)
Salt to taste
Pepper to taste
Walnut pieces
Red grapes, halved
Crackers
Instructions
Blend blue cheese and cream cheese until smooth, either by hand, electric mixer or food processor.
While blending the cheese, slowly add the heavy cream (optional). Mix together until evenly blended.
Season the mixture with salt and pepper, to taste.
Serve as a canapé on crackers, or toasted bread. Place mousse into a pastry bag and add on top of gourmet crackers.
Garnish mousse canapés with walnuts and halved red grapes.
Gourmet Recipe for Blue Cheese Mousse
Start to finish: 6 hours
Servings: 10
Ingredients
1 package gelatin, unflavored
1 cup hot water
12 ounces cream cheese, softened
1 cup blue cheese, softened
1 teaspoon Worcestershire sauce
1/8 cup fresh parsley, finely chopped
1/2 teaspoon salt
1/2 teaspoon white pepper
1/4 teaspoon dry mustard
1 cup heavy cream, whipped
Instructions
Blend softened blue cheese with cream cheese until blended smooth. Stir in the Worcestershire sauce, parsley, spices and mustard.
Dissolve one package of unflavored gelatin into hot water. Fold the cheese mixture into the gelatin and chill until firm.
Gently fold in the whipped cream and set inside a mold. Chill mold for four hours, or until firm.
Serve as a side dish or as an appetizer; garnish as desired.
Presentation and Garnish
A variety of condiments and garnish complement the unique flavors of blue cheese mousse - why not experiment with some of these simple, yet delectable gourmet foods?
Spring onions
Walnuts
Grapes
Pears
Figs
Candied Cherries
Candied walnuts
Celery
Asparagus
Avocado
Dates
Mustard
Wasabi
Caramelized apples
Hazelnuts
Prosciutto
Radish
A blue cheese mousse recipe is usually quite visually appealing and versatile served either as a side dish, canapé or appetizer.