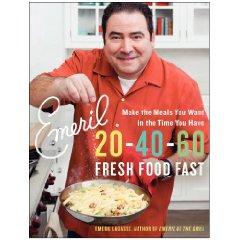 Known for trademark catch phrases like, "Kick it up a notch!", the Emeril Lagasse biography tells the tale of a celebrity chef who has truly risen to the top of his profession. The Lagasse empire, including television shows, cookbooks, and other merchandise, brings in an estimated $150 million per year.
Emeril Lagasse Biography Recap
Emeril Lagasse grew up in Massachusetts with his French Canadian father and Portuguese mother. He was inspired to take his culinary talents to the next level after a working in a Portuguese bakery as a teenager. He went into a culinary arts program at a local vocational school and later onto a culinary arts college. He rose to fame in the restaurateur world as the executive chef at Commander's Palace, a restaurant in New Orleans.
Emeril Lagasse and Food Network
Given his very animated and jovial personality, it was a natural fit for Emeril to continue to launch his career into television. In fact, his television shows gave him celebrity status and truly made him a household name. Likewise, many foodies have pointed out that Emeril was one of the celebrity chefs that truly made the Food Network become a household name. Emeril started on a show called Great Chefs, which featured several chefs from different traditions and cooking styles. He then moved on to host the Essence of Emeril and Emeril Live; both of which were wildly successful and led to the launching of a variety of merchandise.
The Essence of Emeril is actually a spice blend that Lagasse specifically created for use in his own cooking. He frequently advocates that his viewers use their own spice blends to give their dishes a truly unique taste. Emeril's Essence is usually available in the spice section of the grocery store and comes in a few different flavors.
Because Emeril was so successful, it was a little surprising when in 2007, the Food Network decided that it was going to cancel the Emeril Live show. A downturn in ratings and perhaps the arrival of a new culinary superstar named Rachel Ray, may have had something to do with the cancellation. However, speculation suggests that Lagasse and the network were simply unable to come to a new agreement.
Being the charismatic personality that he is, Emeril didn't stay out of television too long and is now hosting Emeril Green on the Discovery Channel.
Emeril's Restaurants
Emeril is a noted restaurateur, owning no less than thirteen restaurants. His establishments offer a unique take on classic Creole, Cajun and Acadian food. Many of his cooks use native ingredients combined with his unique take on classic Cajun food. While all of them tend to have dishes centered on the Cajun theme, each restaurant is unique in its specialties, creating a one of a kind dining experience.
Lagasse Merchandise
It's more than just his culinary expertise and iconic figures of speech that has made Emeril Lagasse a household name. In addition to numerous television appearances and his own shows on the Food Network and the Discovery Channel, Lagasse also has helped create and endorses a whole slew of products for the kitchen, including:
"Kicked up" sauces that feature the chef's unique spice blend
Tableware
Small appliances such as a bread machine and food processor
A line of cast iron cooking ware
Cutlery
Emeril's signature seasoning blends
Emeril's Cookbooks
For those who are not satisfied simply with the Emeril Lagasse biography, but would rather recreate the "New Orleans" taste, you can check out one of the several cookbooks that Lagasse has written. From grilling, to a children's cookbook, Lagasse has been a prolific cookbook author since 1993.