Gourmet Cookware and Accessories
The table setting is the first impression your guests have of the fine meal you are about to serve, and you want that impression to be positive and special. Proper placement of silverware and dishes is simple…
Keep reading »
Browse Topics in Gourmet Cookware and Accessories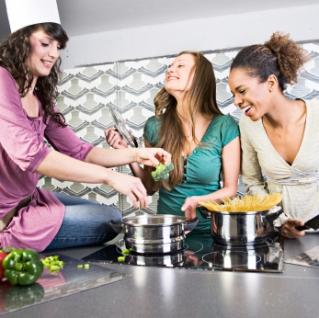 What Would You LoveToKnow About Gourmet Cookware and Accessories?
Do you have all the gourmet cookware and accessories you need? Do you know what you need?
The old saying, "The right tool for the right job," rings true in the kitchen as well. The plain and simple fact is that if you don't have what you need to have to get the job done, gourmet cooking can become a chore rather than a joy. When you're trying to prepare a fine dish, the difference between a cheap pan and a worthy cast iron skillet is akin to the difference between a cheap wine and a bottle of aged sherry. There really is no comparison.
While you can expect to pay quite a bit for good gourmet cookware and accessories, you can also expect them to last forever if you take good care of them. Directions on how to remove rust from a skillet, how to season cast iron and other timely topics help you keep your gourmet kitchen up to par and in the best working condition possible.
Not sure what to purchase? Not a problem! At gourmet cookware and accessories, there are informative articles on making good choices as well as information on the best brands available for both the experienced and novice gourmet cook in your kitchen. You'll never wonder if you have gotten the best possible product for your dollar.
Whether you need to learn how to clean your cast iron skillet, or what to purchase to stock your gourmet kitchen--you'll find the best information right here.